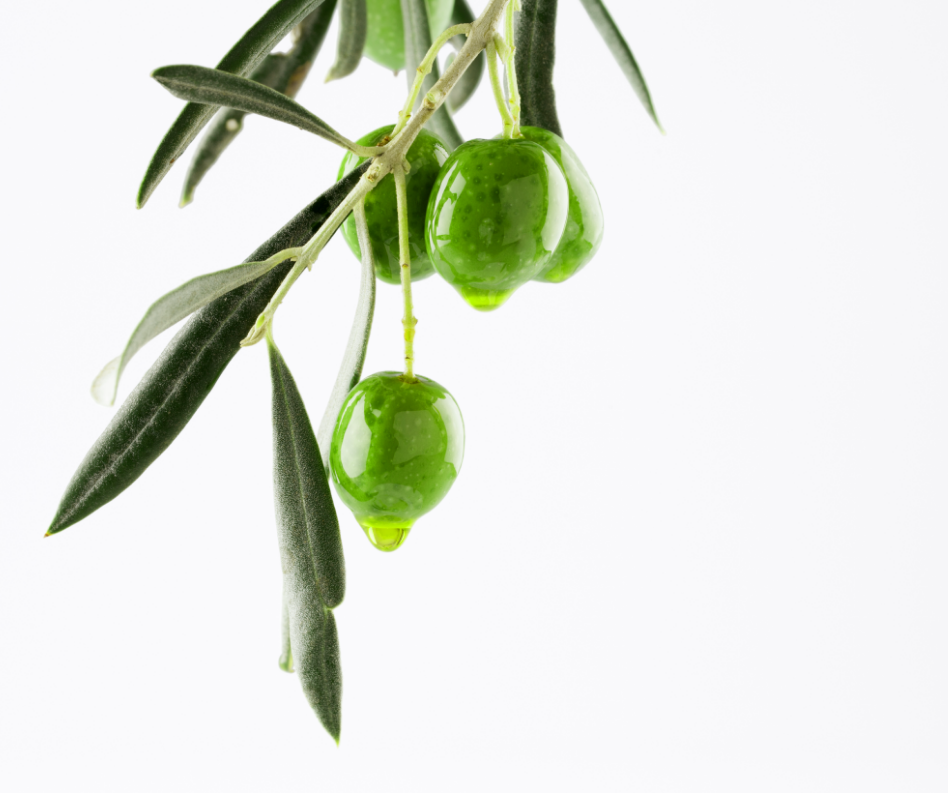 JUICY OLIVE SQUEEZED
We call our product "Olive Juice", because it is a pure extract of olive fruit juice with no additives or alterations. That is why we named it "Juicy Olive Squeezed". It is fresh, flavorous, energizing and carries a lot of health benefits.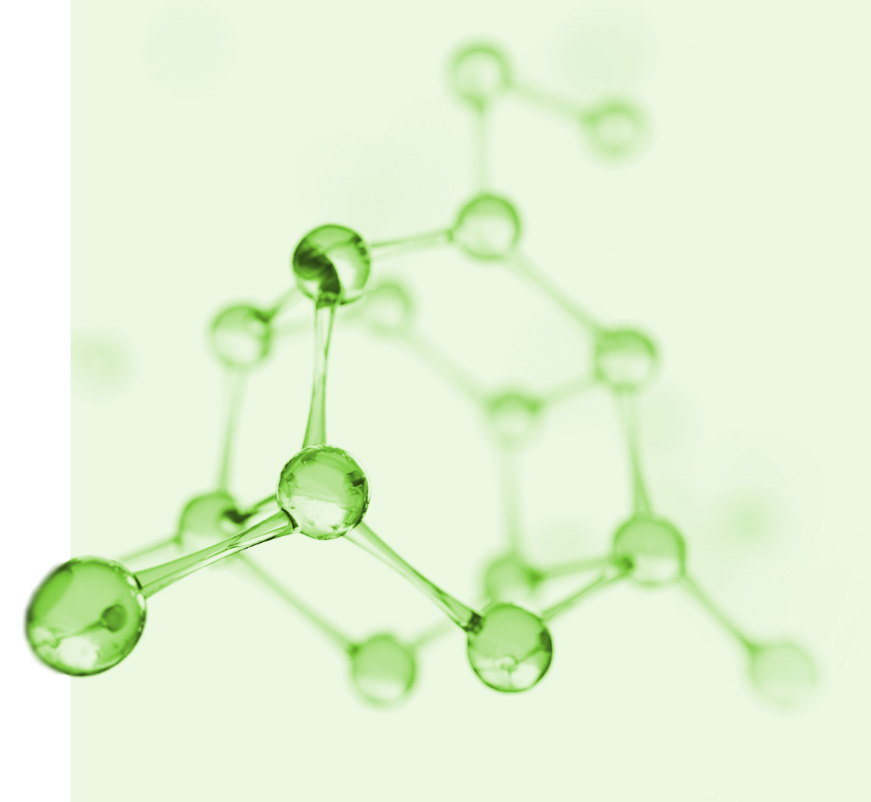 Free Fatty Acids
By nourishing the trees, carefully handpicking the best olives of each tree and extracting the olive juice through single cold press technique, Juicy Olive Squeezed achieves the highest possible quality of olive oil with:
Fruity & Full-Bodied: Rare in acidity: 0.1% or 0.2%
Mild & Flavorous: Low in acidity: 0.2% to 0.3%
Relish & Smooth: Mid range acidity: 0.4% to 0.6%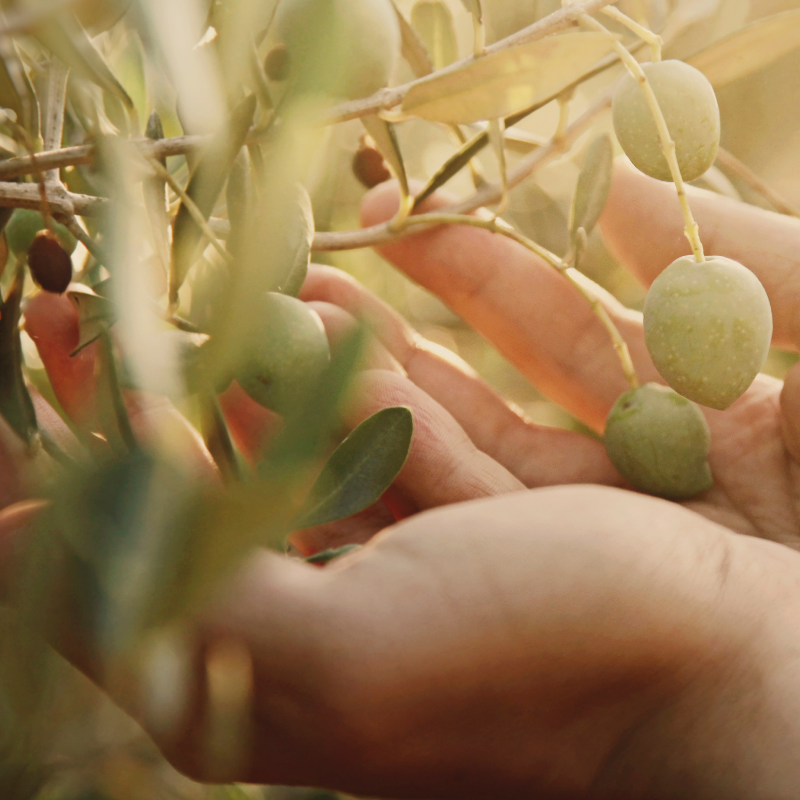 Groves And Tress
The groves are located in a small village in a beautiful harbor facing Mytilene Island. The groves are family owned and cared for naturally, in order to grow 100% Organic Olives.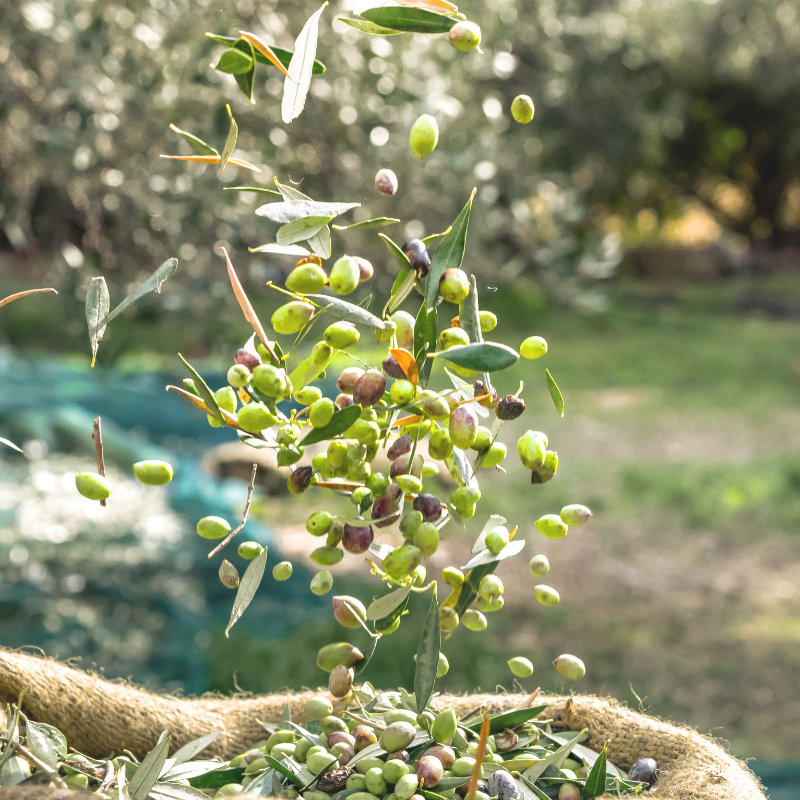 Harvest
Every year, at the start of the season, we select the Juicy Green Olives rich in nutrients and blessed with heavenly flavors for harvesting. Our olives are handpicked, carefully selected in order to remove defected olives and delivered to the pressing facility within the farm.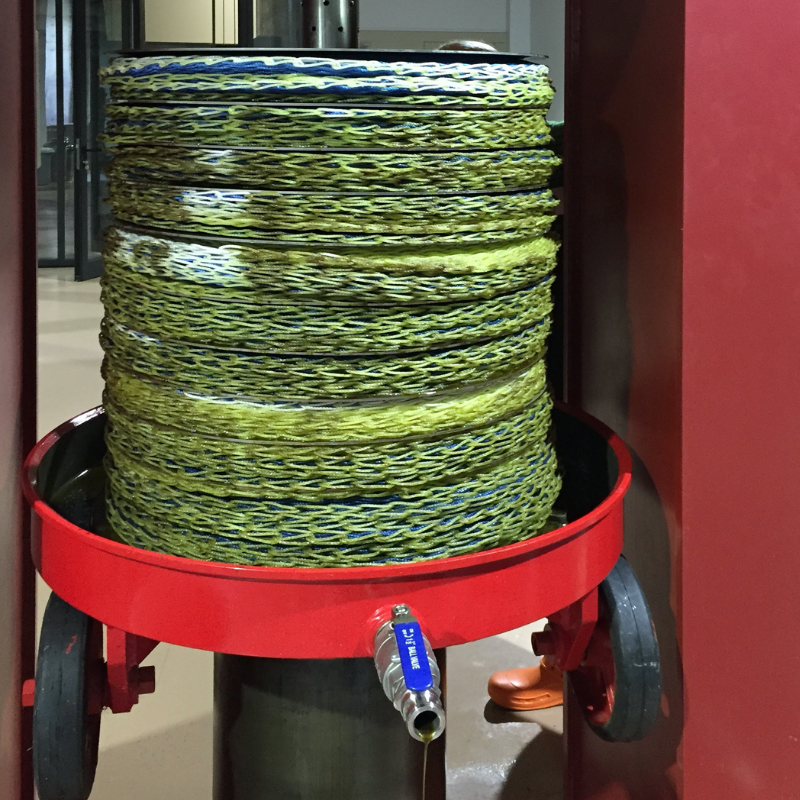 Extraction Method
Since the facility is within the farm, these precious olives do not have to travel far, so the end product (Olive Oil) is always juicier, fruitier and does not accumulate extra acidity.
In order to extract oil from our Organic Olives, we use a combined method of traditional mechanical press and the modern cold press technology. This pressing technique will ensure the quality of product by preserving the fresh taste, aroma and flavor of the olives, while delivering the vigorous nourishments vital for a healthy body and soul.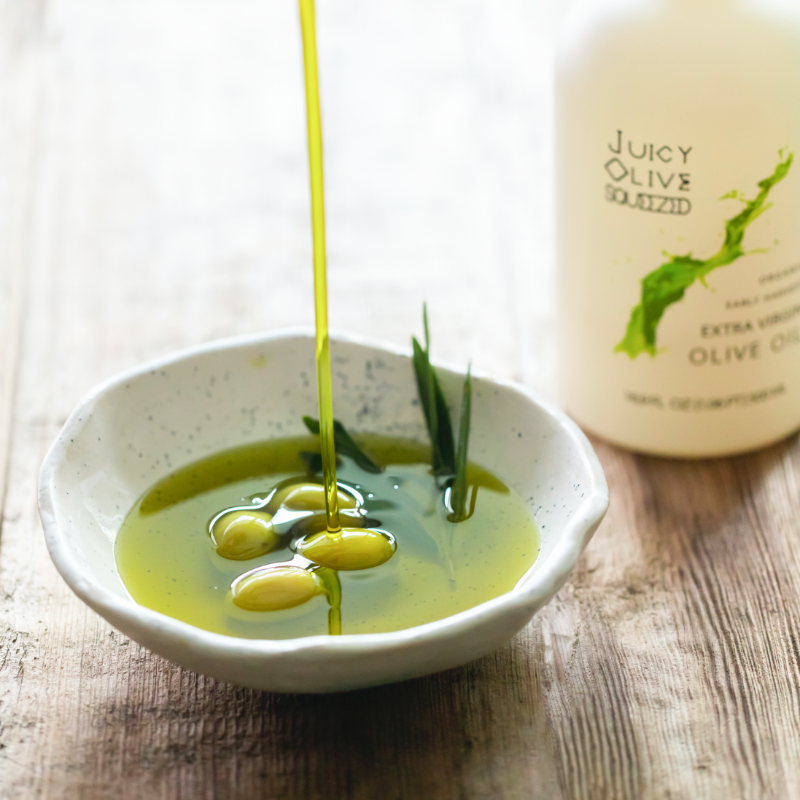 Flavor & Mouthfeel
At Juicy Olive Squeezed, we take pride in offering a diverse range of extra virgin olive oil variants, each with its unique flavor profile to cater to your discerning palate.
Fruity & Full Bodied:
Intriguingly piquant and elegant flavor with a full-body & dense texture.
Pungent & sharp mouthfeel.
Mild & Flavorous:
Mild in olive-fruity flavor with a well-balanced texture.
Fresh, juicy and easy to gulp.
Relish & Smooth:
Smooth and slightly fruity flavor with a limpid & clear texture.
Light and pleasant mouthfeel.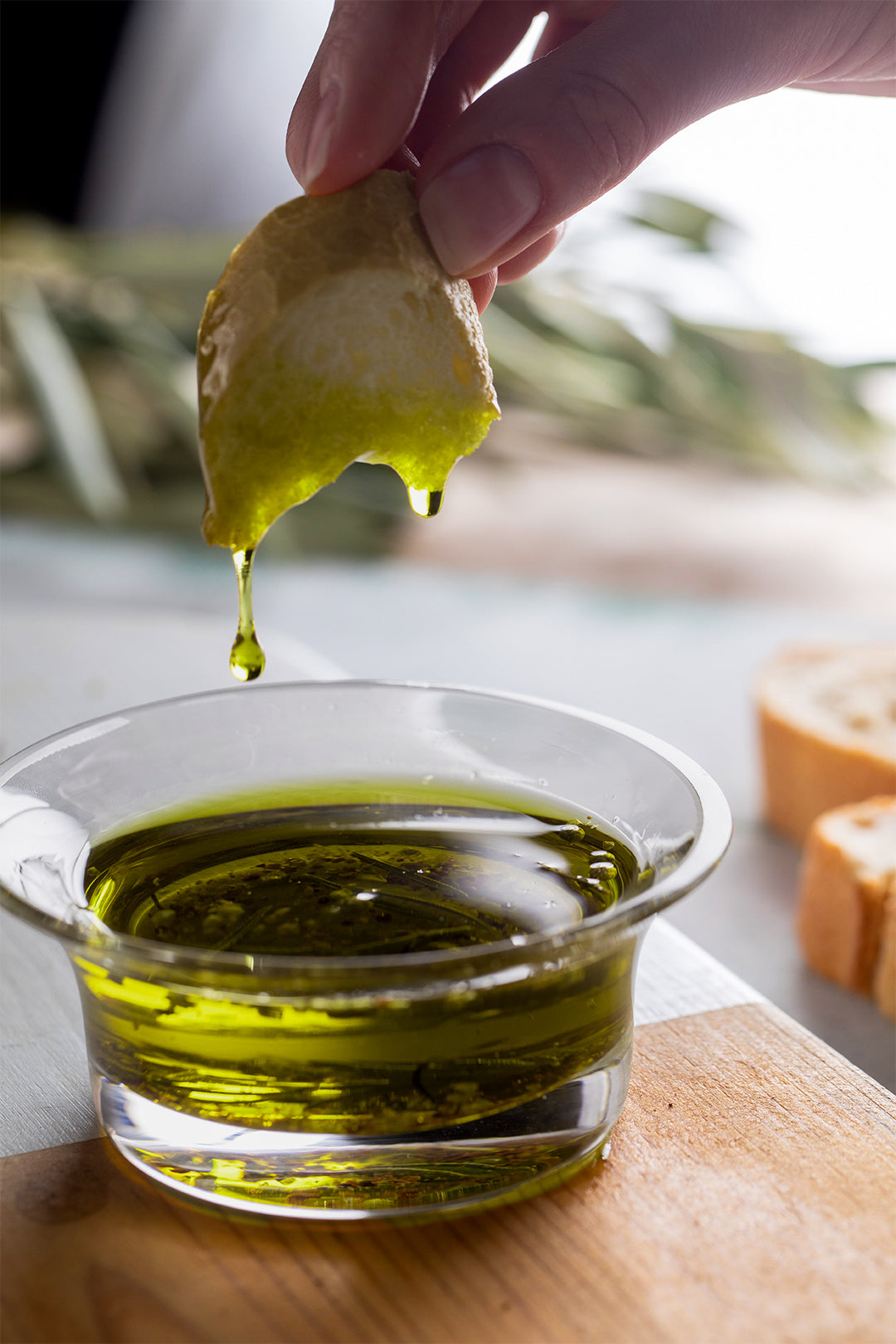 Aroma & Intensity
Fruity & Full-Bodied:
Rich in fruity aroma. Attractively grassy.
Robust character with notable bitterness
Mild & Flavorous:
Slight hints of freshly-mown grass
Medium robust character with mild bitterness
Relish & Smooth:
Clean and present aroma with a taste reminiscent of grass
Mild character with a hint of pleasant bitterness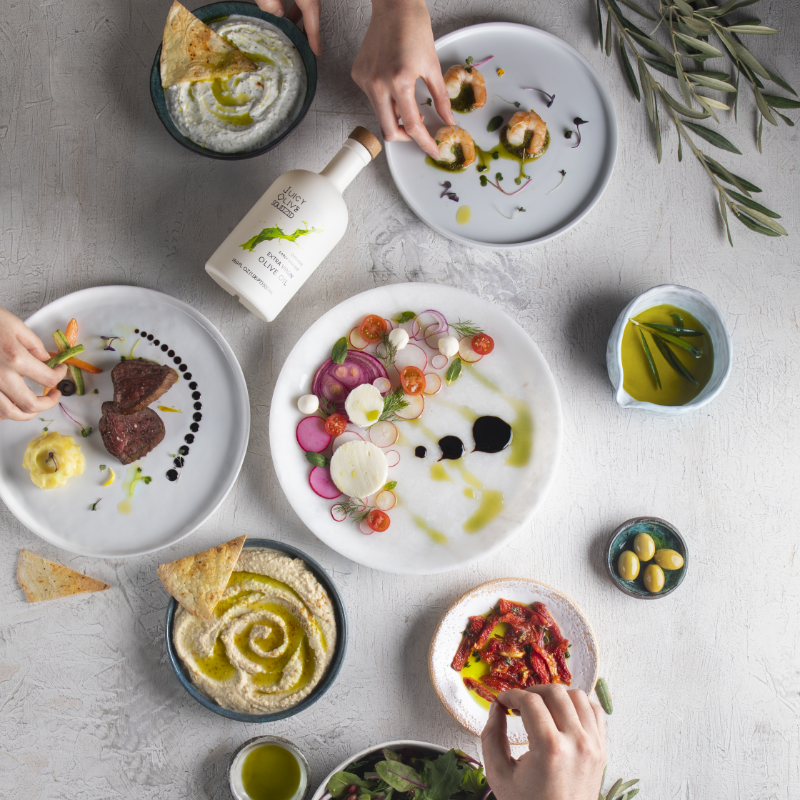 Best to Use with
Juicy Olive Squeezed is rich in aroma and flavor. Depending on one's desire, it can be used along with many dishes.
Whether you like to drizzle it on breakfast items, salads and appetizers or you want to pour it over your grills, fish and other dishes or simply dip your bread in it with just a bit of salt, this heavenly flavor makes everything taste better.
Follow us on Instagram
@juicy_olive